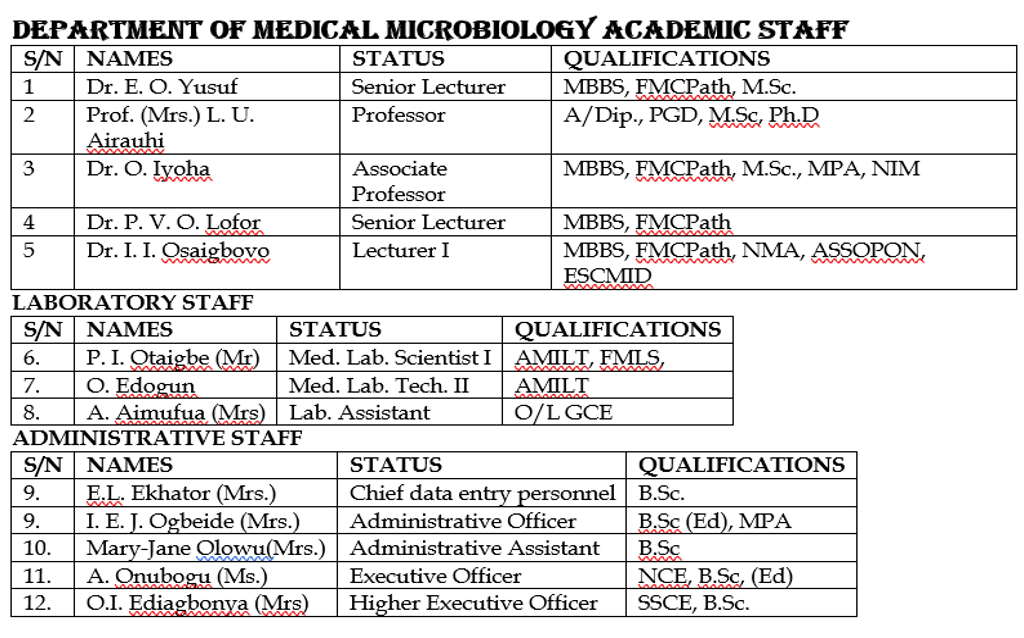 REVIEWED ACADEMIC CURRICULUM
INTRODUCTION
Medical microbiology is the study of Micro-organisms as agents of human disease. Subspecialties of medical Microbiology include: Bacteriology, Immunology, Mycology, Parasitology and Virology. Medical microbiology provides the scientific basis for understanding health and disease in the practice of Medicine as it relates to infectious diseases. It provides the necessary linkage between the basic services or bench work and clinical approach to the patient.
VISION:
To train and be self-sufficient in medical workforce and to maintain a high quality health care service locally and internationally, with the capacity to cope with rapid technological advances in microbiology and the ability to organize and operate a primary health care medical microbiology laboratory.
MISSION:
To train medical practitioners who are competent to practise independently in any setting and contribute to the health and professional educational need of Nigeria with the capacity to operate the primary health care laboratory services and meet the millennium development goals.
HISTORY:
The Department of Medical Microbiology in University of Benin had its pioneer Head of Department in the person of Prof. Simon Nkeadinma Chukwunwike Wemambu, MD, FMC path, FWACP, Consultant and Professor of Clinical Microbiology, (1931-2010) who with colleagues demonstrated for the first time ever to the medical world that leprosy has an Immunological basis. He transferred his services to UNIBEN in 1974 as Lecturer I and rose to the position of Professor in 1990. He delivered his inaugural lecture titled "leprosy Scourge of ages, whither do we go?" in August 2001. Other Heads of Department since inception include Dr (Mrs). C. I. Emokpare, Prof (Mrs). E. Offor,Dr. P. V. O. Lofor, Dr. E. O. Yusuf and Dr. O. Iyoha (Current Head of Department). Other Academic staff includes Prof. L. U. Airauhi.
GOALS:
To teach the students the principles and practice of Medical Microbiology as ideally practised by the medical officers. The objective is to obtain at the end of the programme a well rounded orientation, clearly defined and ready with relevant concept to apply the student to clinical training. The trainee must be able:
To organize and manage a microbiology laboratory in a primary health care centre including being conversant with the requisite safety procedures of the laboratory.
To learn the basic principles underlying all the laboratory diagnostic techniques as well as practically carry them out.
To undertake accurate statistics and periodic clinical audit in medical microbiology.
To interpret laboratory results and situate them in the appropriate context.
To make diagnosis or summaries based on the results of laboratory tests or procedures to the management of disease processes.
To organize and supervise the primary health care laboratories
To advise on antibiotic use for communicable diseases based on the result of the appropriate laboratory procedures.
Clinical management of infectious diseases
A clear understanding of agents of infectious disease and how it brings about functional changes in cells, tissues and organs is imperative for excellence in research endeavours, diagnostic techniques and therapeutic management of diseases.
The study of Medical Microbiology involves the identification of microscopic and quantifiable changes which characterize any abnormal state observable in patients which is referred to as microbial disease.
SPECIFIC OBJECTIVES:
To produce medical doctors who are able to:
To understand basic taxonomy of agents of infectious disease.
To understand epidemiology and clinical classification of agents of infectious diseases.
To understand the basic disease process with emphasis on etiology and pathogenesis
To become conversant in the terminology used to describe microbial diseases and their characteristics.
To develop an understanding of characteristic morphological patterns for the interpretation of laboratory findings relevant in disease processes, the evolution of these processes and their effect upon the patient in the clinical setting.
COURSE DESCRIPTION:
The three course runs from 2nd semester of 300L to the 2nd semester of 400L. There are five sections; Bacteriology, Immunology, Parasitology and Virology
CURRICULUM
To achieve the departmental objectives undergraduate medical microbiology course is divided into the following section:
INTRODUCTORY POSTING
COURSE CODE: MMB321 16 HRS (1Credit)
Introductory Lecture 2nd semester 300L
Introduction to medical microbiology 2 hrs
Criteria for classification of microorgansm 1hr
Transmission of infections disease agent 2hrs
Biology and principles of microbiology 2hrs
Properties of microorganisms 2hrs
Principles of immunology 4hrs
FIRST SEMESTER
SECTION ONE: PRINCIPLES/FUNDAMENTALS MMB411 48 HRS (3 Credits)
Superficial mycosis
Subcutaneous mycosis.
Classification of parasites of medical importance
Introduction & classification of Arthropods of medical importance.(medical Entomiology)
Ectoparasitic scabies mites, myiasis causing larvae etc.
Venomous Arthropods
Arthropods: Intermediate hosts and vectors of diseases
Principles of life cycle pattern of parasites
Epidemiology of parasitic diseases
Epidemiology of mycoses
General properties and cultivation of Bacteria(growth nutrition growth curve
Bacteria phages
Sterilization & disinfection
Morphology of bacterial cell
Antibacterial agents
Culture media
Infection and resistance to infection
Normal microbial flora
General properties/classification of the viruses
SECTION TWO: SYSTEMIC MICROBIOLOGY: MMB421 74hrs (3Credits)
Mycology:
Opportunistic mycoses
Systemic mycoses
Superficial mycoses
Antifungal agents
Medical helminthology:
Classification of helminthic diseases
Nematodes
Cestodes
Trematodes
Lumen dwelling helminthes
Blood and tissue nematodes
Arthropods of medical importance (medical Entomology).
Medical protozoalogy:
Sporozoa: Malaria and Babesia
Toxoplasma
Cryptosporidium
Pneumocystis
Flagellate:
Trypanosomes
Leishmania
Trichomornas
Giardia
Amoebae
Ciliates
Antiparasitic drugs.
Bacteriology:
Gram positive cocci: streptococci/staphylococci and infections
Gram negative bacilli nitrobacteria ceae eg. Escherichia, salmonellae, shigellae etc.
Non- fermentative gram negative bacteria :-
Pseudomonades, pseudomonas Spp, Acinetobacter, alcaligenes
Corynebacteria, vibrios, campylobacter, Helicobacter, Lysteria, haemophilllus spp.
Bacillaceae e.g. anthracis clinical significant mechanism of pathogenicity
Clostridia Cl perfringens, Cl. Tetani, Cl. botulinum
Mycobacteriaceae, Actinomycetes, Nocardia
Spirochetes
Niesseria
Gram negative coccobacilli
Pasteurella
Brucella
Bordertella
Franciscella.
Mycoplasma & ureaplasma
Chlamydia & Richettsiae
Hospital infection
Food poisoning
Urinary tract infection
Diseases of the central nervous system: Meningitis
Diseases of the respiratory system: Pneumonias, tuberculosis.
Virology:
Adenoviruses
Papovaviridae
Herpesviridae
Poxviridae
Hepadnaviridae
Picornaviridae
Orthomyxoviridae
Paramyxoviridae
Flaviviridae
Rhadoviridae
Arenaviridae
Filoviridae
Bunyaviridae
Retroviridae
Coronaviridae
Caliciviridae
Astroviridae
Prions.